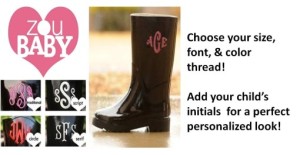 Are your children ready for the rain? Are they ready to splish, splash without the worries of water getting on their little feet. ZouBaby brings to you and your children their stylish collection of monogram rain boots.
These good quality boots will add that special look to any child's feet with their own cool name signature added. No need to worry about your child's searching to find his boots at school. His boots will stand out among any other style.
I adore the ZouBaby boots I received for review. My little one is sure to stand out in the crown. The are very well constructed and the engraved initials are that of his name embedded with the color he loves so much, blue!
Not only are they for kids, they are also for Mommy too. Engraved with mom's initials, so not only will mom be in style but Mom and child can show off there monogram boots together.
Don't let the rain over come you, over come the rain with these Awesome stylish cool momogram books from ZouBaby!  ZouBaby offers monogrammed rainboots in a variety of fonts & colors so you can personalize your boots, just choose your boot size, color fonts, tread color and place your order! Once you see them I'm sure Mom and child will not want to take them off. They both will be singing in the rain :0)
Here is the pair we received for review,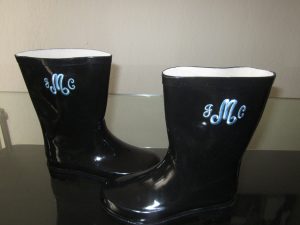 I had them engraved with JMC, fonts in blue so they would stand out even more for Jordan. He hasn't had a chance to try them yet for he has been sick with a cold. But rest assure the moment he feels better I'm sure he might even sleep in them. lol
He will be able to dress to impress with his ZouBaby boots, there cool, stylish, classy and sure to draw attention.The children's boots  are just too cute!
ZouBaby was founded by  Bridget Davis, she is a Cincinnati native and a mother of four. She founded the company when she wore out her favorite leather riding boots. She realized she needed to find a more versatile, longer-lasting alternative that would meet her need for comfort and quality, but also reflect her stylish flair.
Endlessly creative, she experimented with a pair of her daughter's rubber rain boots and a monogram machine. Ta-da! Zoubaby boots were born and they've been turning heads and making people smile ever since.
I'm ready to order a pair for myself. I'm going to grab my rain boots, rain hat and coat and go signing in the rain. I'm sire many will ask…where did you get those cool boots and I will reply…..hun they came from ZouBaby ! *smiling*
Now you to can own a pair of ZouBaby Boots…enter below and Good Luck!
(All entries will be verified)
Disclaimer Statement
I was not compensated for this post, however I did receive a product from Zou Baby. The opinions expressed in this post are 100% of my own and any product claim, statistic, quote or other representation about a product or service should be verified by the above mentioned store, PR,or product designer.