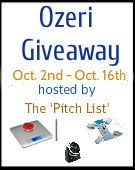 I received my Ozeri bathroom scale about a week ago and I have been using it every since. The scale has been a big help with my Nurtisysyem program. I needed a good scale that would be able to give me my precise weight. I have had so many other scales that failed to give me a good accurate reading.
It is so important to a have good bathroom scale in your home. The Ozeri bathroom scale is truly wonderful, not only does it give me a proper reading upon weighing in. It lights up with big Bold numbers making it very easy to see your weight. It holds up to 440 lbs, that is a lot!! The structure of this scale is very well designed. 
Even though it's made of  glass it is sturdy, modern, digital and adds that elegant look to any bathroom.
Ozeri
  is distributed by Moderna Houseware and is one of the leading top of the line digital manufactures. You can find their products all over the globe from vacation residence to luxury spa's.They are very affordable and well worth every penny.
You can find so many wonderful well designed products from Ozeri  bathroom scales, kitchen items, health and fitness and much much more.
I was so impressed by their scale when I opened my box up. I had already had a nice scale in my bathroom but it still was a guessing game when it came time for me or any of the family to weigh in. It was a scale that cost me a pretty penny but the results always gave us an inaccurate reading. I would visit my doctors office and weigh in and my weight would be much different from my old scale.
The scale is very easy to use. Just step right on and it is activated, it shows you your weight in a LED display. Big bold and blue numbers, no need to worry about not seeing them! It is clear and can be cleaned with a lightly damp cloth. It has a feature called InstaOnTM technology that requires no tapping to activate. 
Since starting on Nutrisystem, my weight report has been off since my old scale couldn't give me a correct reading. But there's no need to worry anymore this week. when I report my weight I will be reporting it from my new Ozeri Precision ll Digital Bathroom Scale. A scale that is accurate, well structured, cost effective  and calculates weight in pounds and kilograms.
Visit Ozeri on
Facebook
, and their
Website
to learn more about their products.You can also see their products on
Amazon
, many great customer reviews are listed as well.
                       Giveaway will start on October 2nd- October 16th.
Now you can win this great Ozeri Precision ll Digital Bathroom Scale….just enter here: Rafflecopter Code
a Rafflecopter giveaway
Disclaimer Statement
I received one or more of the products mentioned above from Ozeri & Pitchlist Group at no charge for review purposes only. All opinions expressed are 100% my own and were not influenced by any other source. I am disclosing this in accordance with the FTC.