Disclaimer: "This review and giveaway was made possible by Double Duty Divas and Mamma Chia. I was compensated for my participation in this campaign, but all opinions are 100% mine."
Photo Credit via Mamma Chia website
When it comes to finding that fresh organic beverage Mamma Chia  just may be what the doctor ordered for my kids. I had never heard of this brand before, so when I was offered to sample Mamma Chia drinks my kids and I were ready. The package was delivered just the other day and when we opened the box we saw a variety pack of Chia Squeeze Vitality Snacks & plenty coupons to share with the family.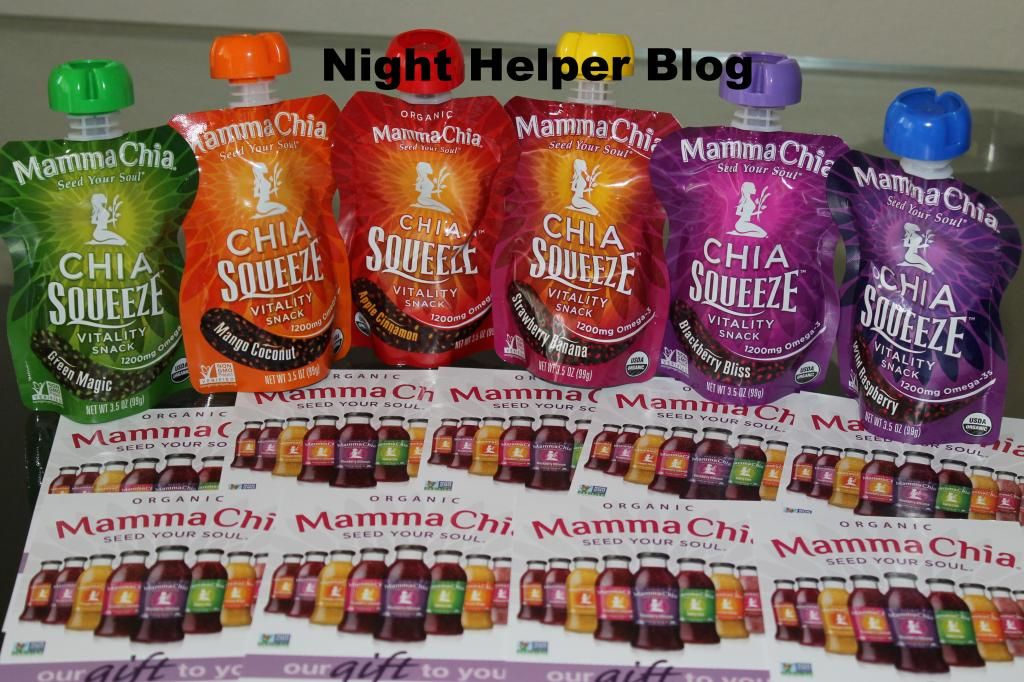 Jalen and Jordan could not wait to give them a try. Jordan grabbed the one he wanted(Green Magic) to try and so did Jalen(Strawberry Banana), both boys enjoyed their selection. Jalen stated he liked the fruity taste while on the other hand Jordan enjoyed the beverage but  seem to not like the Chia seeds. Jordan is funny like that his beverage drinks and food has to be just right, he's one of those picky kids. I know Jalen really enjoyed the drinks for he reached to get another Chia Squeeze snack, actually he stated he really liked the Blueberry Bliss the best. Now for Lex, she wasn't too happy with them so I wanted to know her reason as to why and she informed me that the taste of the fruit was tasteful she just didn't like the texture.
I don't allow them to drink  much soda or  juice but with the Mamma Chia Squeeze and beverages I don't mind them enjoying a few because they are healthy and infused with lots of fruit and vegetables. They're perfect for packing in my kid's school lunches when they head back to school!!!
Let me share more with you about Mamma Chia: They are a Certified B Corporation, Mamma Chia donates 1% of gross sales to support farmers, community groups and organizations that are building healthy, local food systems. Mamma Chia products are a natural and organic alternative to many sugary beverages and snacks. They are sweetened with agave and contain no artificial colors or flavors and they are good for you because they are gluten-free, non-gmo, vegan, kosher and USDA Certified.
The Mamma Chia beverages are  delicious, refreshing and come in some pretty cool bottles with some very attractive labels. I have to admit I like the Mamma beverage better than the Organic Chia squeeze, it's pretty cool seeing the Chia seeds floating inside each bottle.
The Mamma Chia Vitality Snacks come in squeezable pouches with twist-off lids and are intended for all ages. They come in four flavors: Strawberry Banana, Green Magic, Apple Cinnamon, and Blackberry Bliss and can be packed away in your kids lunch with ease.
The Chia beverages contain 6g of dietary fiber, 4g of protein, 2500 mg Omega-3 fatty acids, 965 mg Omega-6, and 365 mg Omega-9. The Chia snacks contain 4g of dietary fiber, 2g of protein, 1200 mg Omega-3, 500 mg Omega-6, and 210 mg Omega-9.
Where to Buy Mamma Chia Products: Mamma Chia beverages can be found in many Whole Foods Markets and many other retailers. Mamma Chia Beverages and Squeeze Snacks are also available at Costco. You can also order online through Amazon.
You can connect with Mamma Chia via Facebook & Twitter to keep up with the latest.
 Now its your turn, enter to win
Mamma Chia products and coupons so you too can try out the Ch
ia beverages and Mamma Chia Vitality Snacks…..enter below USA only and ends 9/07

Disclaimer: "This review and giveaway was made possible by Double Duty Divas and Mamma Chia. I was compensated for my participation in this campaign, but all opinions are 100% mine."