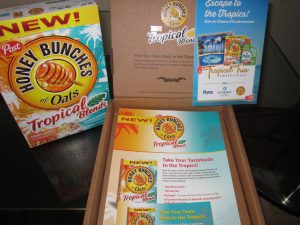 Honey Bunches of Oats is bringing to your table their new Honey Bunches of Oats Tropical Blends Cereal!
Can you say MMM, MMM Good! The kids were happy to try out the new cereal Honey Bunches of Oats. This is one of their favorite cereals in our house so when I was given the opportunity to review their new Honey Bunches of Oats Tropical Blends the kids couldn't wait.
 This new Tropical Blend Honey Bunches of Oats Cereal is flavored with crispy mango flakes combined with real coconut shavings and coconut flavored granola clusters.
Its Heart Healthy which is very good, no Trans fat, has 0.5g Saturated Fat, no omg Cholesterol. IT has only 120 Calories, 10g of Whole Grain, 9 Essential Vitamins & Minerals plus 60% daily iron…I know you are wondering about the sugar right! Well know worries Honey Bunches of Oats Tropical Blends only contain 6grams of sugar.
Now the kids tried the cereal and to my surprise only one of them really liked it. The other two enjoyed the cereal but they enjoyed it without the milk. Yes that's right the two boys enjoyed it much better without the milk.
My kids are so weird like that who would have thought they would enjoy eating the cereal plain without the milk, but wait you won't believe what else they did. We decided to watch a movie so I popped some popcorn and Lord be hold they took out the cereal box mixed their popcorn and Honey Bunches of Oats Tropical Blends together.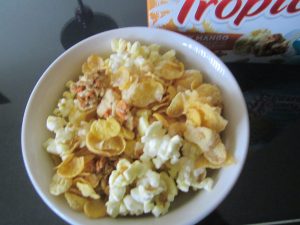 I was like nooooooo, lol but what was I to do but watch as they sat and enjoyed both the movie and cereal combined with their popcorn.
Well now its your turn to try out the New Honey Bunches of Oats Tropical Blends Cereal. Three lucky winners will win a coupon from Honey Bunches of Oats!
Enter below.
Disclaimer Statement
I was not compensated for this post, however I did receive a product from PurexInsider and Honey Bunches of Oats. The opinions expressed in this post are 100% of my own and any product claim, statistic, quote or other representation about a product or service should be verified by the above mentioned store, PR,or product designer.