Disclosure: I was not compensated for this post but I did receive a sample product for review, however all opinions expressed in this post are 100% my own.
Wow, I am so excited to be bringing you a company that can help you transition any wall in your home within  a matter of minutes. This company which is called Fathead will wow your friends and family with their unique selection of products. I would have to say I have never seen anything like this before!
Let me tell you about the company first: Fathead is a popular brand name of oversized wall graphics manufactured by Fathead LLC and owned by Dan Gilbert. Currently, Fathead's products include images of MLS, NBA, NFL, MLB, NCAA, NHL, WWE, and NASCAR athletes as well as Star Wars and Disney characters, which can be used to decorate flat surfaces of rooms and halls. All wall decals vary in size, and can be as large as 8 feet tall or wide, depending on image. Fathead brings the heat to your room with big, bold visual smack that shows your true team colors. Use Fathead discount codes or coupon codes while placing an order for REAL BIG Fathead wall graphics.
Now that you know about what the Fathead  LLC company manufactures let me share with you what they sent me last week. My oldest son is a true sports lover so when they offered to send me a product to share I immediately thought of him. I suggested one of the Lions Players since he loves the Lions so much. The Fathead company sent me Calvin Johnson wall graphic and man was I blown away as to how  huge and cool this graphic look.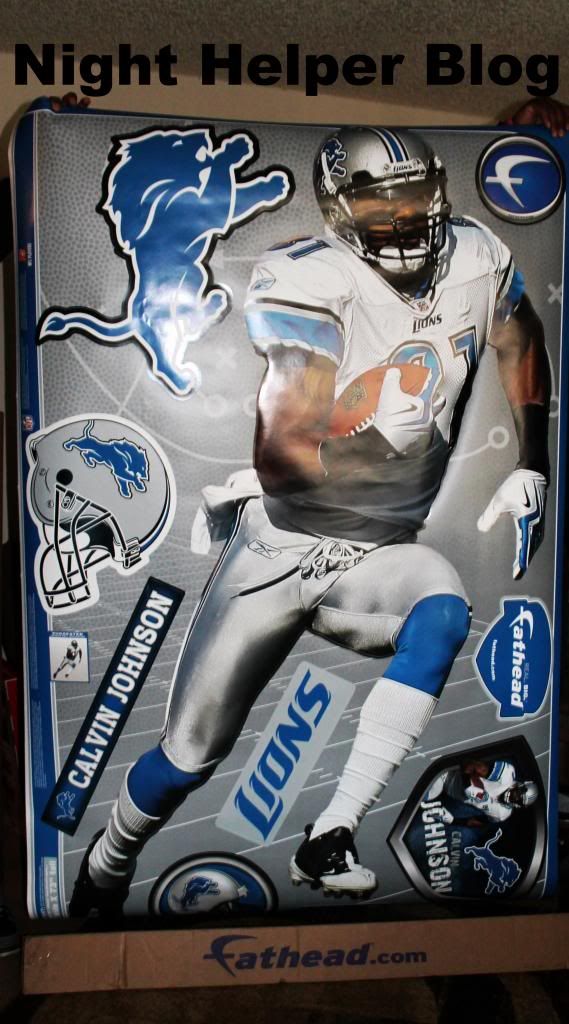 When I say its huge its HUGE, my son and son in-law held it up and as you can see it was taller than them both…lol! The detail graphics are outstanding. Each individual piece can be removed and placed on any wall in your home. The wonderful thing about Fathead is this leading brand not only have sports wall graphics they also have a wide variety of official licensed products like Disney Characters, Animals, Sea Creatures, Art Décor, Nascar and much more to help you transform a wall within minutes. Well here is my son Fathead graphic…….CALVIN JOHNSON displayed on his wall. He has the remaining LIONS decals placed throughout what he calls his man cave in his new home basement! Calvin Johnson looks as though he is ready to come off the wall he is so big. My son stated my grand kids are fascinated by the graphic and each time they pass by it they pose and ask him to take a picture of them next to it!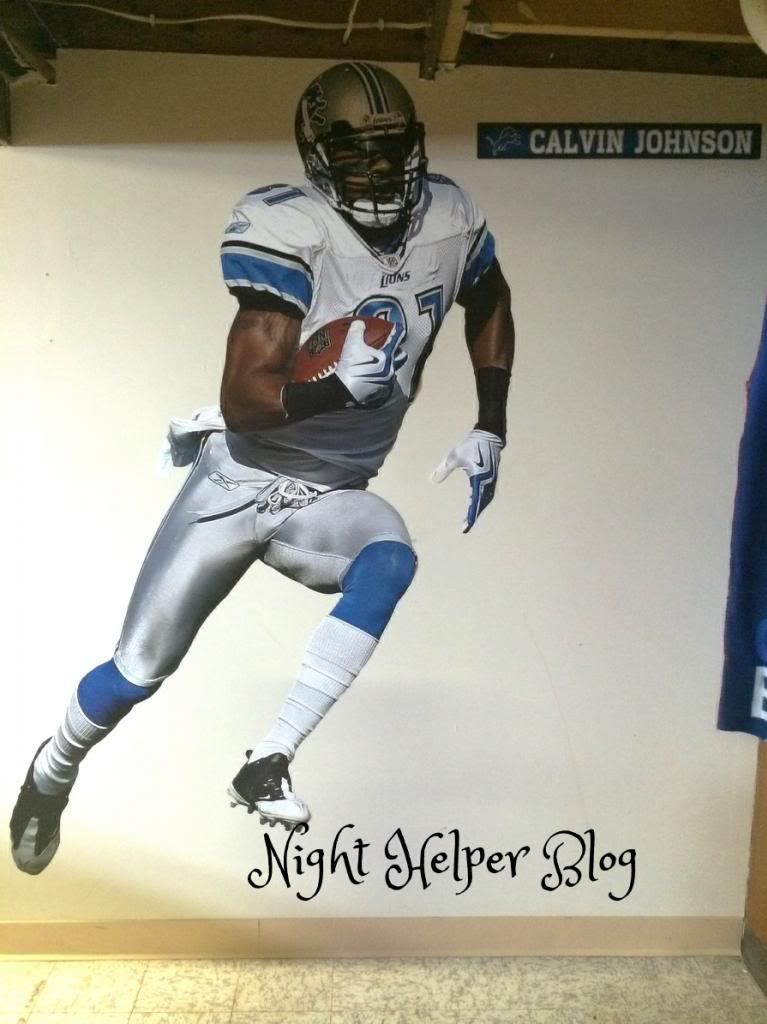 Awesome, wouldn't you agree? Don't worry just as fast as you were able to apply the Fathead graphic to your wall you can just as easily remove it. I think I am going to invest in this one for my grand kids, its the Disney Planes Fathead graphic….look.
So if you are in need of a good gift for that special person or child consider grabbing one of these cool Fathead Wall Graphics,  I 'm sure they will love it just like my son loves his! Oh and The Fathead company can also customize a personal Big Head graphic of your child or loved one, can you imagine walking in the kids room and seeing a huge head shot of them displayed on the wall.
Now you too can win one just enter below…..US only ends 5/16 a Rafflecopter giveaway
Don't forget to connect with Fathead via Facebook , Twitter plus you can use the Fathead coupon and get your favorite wall graphics with 25% savings along with Free Shipping!                 Disclosure: I was not compensated for this post but I did receive a sample product for review, however all opinions expressed in this post are 100% my own.